knotts theme park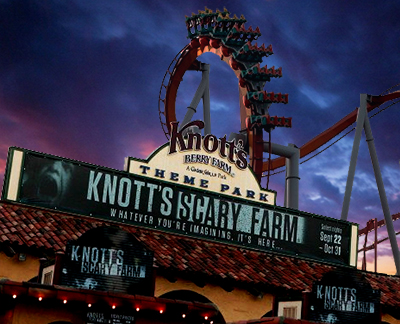 Vicente Duran Vazquez, writer
October 30, 2019
Hang on for a minute...we're trying to find some more stories you might like.
¨Knott's Scary Farm is the largest and most haunting Halloween activity in Southern California! The fully transformed theme park features uniquely haunted houses, mazes and attractions, sinister shows, a dozen thrill rides in the dark and more than 1,000 horrifying creatures lurking in the fog and hiding in every corner of the park. Knott's Scary Farm is far more than a collection of haunted houses and mazes. Every night, monsters spill out onto the streets and turn theme park midways into terrifying scare zones. From the world famous Ghost Town Streets to the Boardwalk area filled with evil clowns, there's nowhere to hide in Knott's Scary Farm.¨
¨1st shadow lands is a fulfilling life ensures a soul safe passage into eternity, but what happens to the souls of soldiers slain in battle? Enter the hair-raising Shadow Lands maze and fight off demon samurais whose souls are cursed to rot within the depths of purgatory. Guests will embark on a quest through a sacred shrine, an ancient Japanese temple and into the midst of the shadow lands.¨
A second maze is called Pumpkin Eater it has people bleeding everywhere in old houses then they walk into a huge pumpkin and they have people with pumpkins as heads and then they walk into a cornfield and there are many scare crows trying to scare you.Which I think is a good idea because the feeling of not knowing where your going is frightening
¨Third, Armed with cutting edge laser guns, brave guests will face off against hordes of zombies in the groundbreaking Special Ops: Infected interactive maze. Small units of guests will battle the zombie apocalypse through blood-soaked city streets and an underground sewer system crawling with nearly one hundred ravenous zombies. The high tech innovative experience thrusts guests into the middle of a live-action video game complete with live actors, real-time scoring system, kill streak rewards system and interactive targets, including a juggernaut boss zombie. This attraction is one of the largest mazes ever created in Knott's Scary Farm.¨
Now the last one, the Red Barn that maze has a tremendous amount of screams of people being tortured and animal noises. There are also many tall men wearing pig skin masks and they make a sound of squealing pigs while scaring you.So there is my opinion of why I think knott's scary farm is a fun and entertaining place to be scared because if you like the feeling of someone watching you in the dark, the sound of chains rattling and creepy psychotic laughs well then Knott's Scary Farm is perfect for you.