What is The Green New Deal?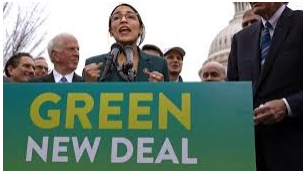 As climate change proceeds to be an ongoing issue, we are constantly being warned about the dangers it has on humanity. Alexandra Ocasio-Cortez (AOC) and Senator Ed Mark think they have the solution. They are introducing what they call the "Green New Deal" which they claim is a massive policy package that will remake the US economy and eliminate all US carbon emissions. As these goals are to be met, in the process it is expected to create jobs and boost the economy.
In a blog post provided to NPR, these aggressive goals that the Ocasio-Cortez office calls for are to upgrade all existing buildings in the country, work with farmers to eliminate pollution and greenhouse gas emissions, and high-quality healthcare for all Americans. It doesn't end there, they also call for overhauling the transportation systems to reduce emissions and plan on expanding the manufacturing of electric cars. Many in the climate science community and those in the Green New Deal proponents can admit that saving the world from climate change is an aggressive action. They can also admit that the "Green New Deal" contains some aggressive goals as well. Alexandra herself has told NPR that ¨in 10 years, we are trying to go carbon-neutral¨ and according to Jesse Jenkins, a postdoctoral environmental man at Harvardś Kennedy school, states that may be an unreachable goal. Jessie says that we need to target a net-zero carbon economy by 2050, which in itself is a huge challenge but we must also reduce carbon emissions much faster than we have ever achieved historically. He genuinely believes that 2030 might be a little bit too early to be targeting. The cost of this possible green new deal policy alongside the more progressive economic policies like universal healthcare and job guarantee would cost up to trillions of dollars.
In a Stanford Report, the co-director of the Precourt Institute for Energy Rob Jackson and the director of Stanford Atmosphere/Energy Program Mark Jacobson speak about the strengths and weaknesses of the GND. Jackson states that one of the benefits of this policy would help the tens of thousands of Americans who die unnecessarily each year from coal-fired power plants and our vehicles. Jacobson says that ¨Such a transition will eliminate 62,000 air pollution deaths per year in the U.S, saving taxpayers $600 billion a year¨. Jackson also talks about a potential weakness the GND can have which is how the two political parties cannot agree and he says he wants no differences between the parties keeping us from cleaner energy and improved energy efficiency. Overall the Green New Deal policy will continue to be up for debate and people will have their opinions but the goal of improving climate change shouldn't be overlooked.