Kids are playing more video games. Should adults worry about it?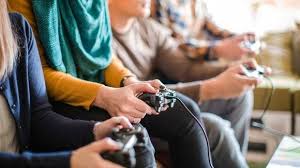 Over the past four months or so, while quarantined at home, kids are more interested in playing video games, using it for distraction.  But it's not only kids playing more video games, but adults are also starting to play more. According to Verizon, gaming was up 75% in the first months of self-isolation. As when it comes to playing video games, it can benefit people of all ages. But kids and adults have very different points of view. Experts say that high video game usage among children aged 6-11 was associated with higher intellectual functioning and competence in school and fewer relationship problems with peers. (Columbia University's Mailman School of Public Health.) Kids can develop a range of skills like, negotiate, collaborate, to take turns, to think critically with others. According to JHU, there is evidence that video games can help with kids' mental health. "Every time I feel stressed or worried about something, I try to play videogames and interact with others because it really helps me not feel lonely," said Miguel, an 11-year-old boy who says that video games help him a lot. 
Parents and children can have very different ideas when it comes to playing video games. When it comes to adults(most adults), they want to make sure their children are strong, safe, and healthy. Many parents worry that playing video games might have a very bad effect on the way they behave with them, or with their peers. For example, they mostly talk about a game that involves a lot of fighting in it, they worry that playing it will encourage their child to be violent and especially with being stuck at home and they can "be stressed". According to JHU, most parents prefer their child to interact with real people, or more with them because of COVID-19, they can't really go out and interact. Experts say that videogames, in some way can become addictive, and for the most part, they benefit you. But there are still parents who are totally against video games, but what experts say is that parents should make sure that their children are finding ways to get physical exercise and most importantly mental health.