Tagging In The City of SA
When walking down the street there is always tagging. Where you may ask, well there's tagging in food markets, parks, public restrooms, streets, schools, signs. The city spends a lot of money on paint, windows, and new doors. On the street; it's either on the sidewalk or just the sides of the streets. Teenagers and adults like to write on the wall or paint it or do something with it, and they don't realize how hard it is to go to a location and paint it. There are murals in parks, neighborhoods, etc and they like to tag the beautiful murals that artists created just to see them get painted the next day a different color. It sucks to see that hard work get destroyed by some ugly writing.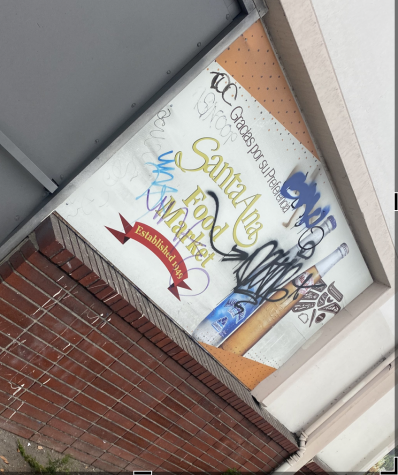 In food market windows or doors. People go to the food markets to buy groceries, food, or any type of thing they might need and come to see the tagging that is in the windows and the doors. Now people tend to see our city as a bad city because of all this ugly writing that there is here. That's why they judge our city for all this terrible and dreadful tagging that there is. Many people complain about this because they don't see it in other cities. 
     In schools, there's tagging on restroom stalls, desks, halls, and mirrors inside the restrooms. They had to fix mirrors and the door stalls. Also, the desks in the classrooms also have been tagged. It's either engraved with a pencil or written in pen or pencil. Tagging isn't appropriate or professional here in the city of Santa Ana or anywhere. It looks bad and disrespectful to be writing on property that is not yours or you didn't create or make. People put hard work into the things they make and I'm pretty sure they wouldn't like it if they did something like that to something important they made.
Leave a Comment