Dana Hills Invitational Race
On September twenty-fifth, the Cross Country team raced in Dana Hills Invitational Race. The race started at 8:00 with the boys' varsity team and ended with the 9th-grade girls/boy at 12:30, and the school placed at 3rd. The Cross Country coaches always train them for each race so, when they placed 3rd they had positive things to say about their students.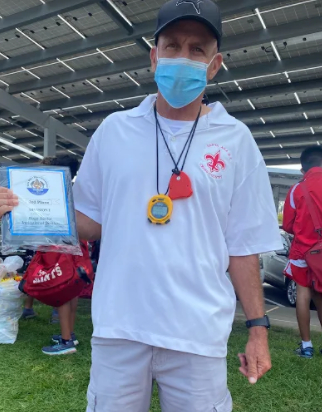 The cross country team has been practicing each week for each race, they always work as a team, always encouraging each other, and the coaches always do the same thing. When I asked two of the coaches, "How did you feel about being placed in 3rd in the Dana Hills Race?" Coach Nava, one of the coaches for the male team, answered, "I am super happy that we got 3rd place with the competition we got. It was a big accomplishment." While Coach Patty, one of the coaches for the female team, answered, "The girls did good but could have done better, and I think they know that themselves. The boy did good but, they freaked out a little bit." As we can see from both answers, the coaches feel the team's hard work helps them for their race but, how about all the team members' thoughts.
The Santa Ana High School Cross Country team felt great when they were placed in 3rd while some did not do well for this race, they still push through and know they can do better for their next competitions. If you are interested in joining the cross country team then, you have to know it is not going to be easy, you are going to have to be dedicated, focused, and committed to the team and sport.
Leave a Comment