Interviewing One Of The Best Teachers At SAHS !!!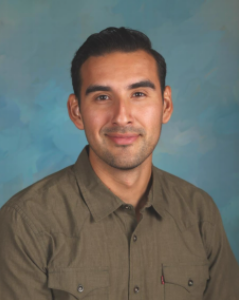 I had the opportunity to interview one of the best teachers at Santa ana high school. The teacher I got to interview was Mr. Chavez who is part of the history department. Mr.Chavez teaches 10th grade AP world history and 11th grade U.S. History. U.S. history is a requirement to graduate high school. I am beyond lucky to have him as my teacher this year. 
Mr.Chavez has such a positive attitude he's always making his students laugh and I notice that everyone who has or has had him can say they really enjoy being in his class. When I go to class during the passing period he's the teacher who stands outside and welcomes everyone. There are even students who have walked by just to say Hi to him. Mr. Chavez has been teaching at sahs for about 3 years. He told me his mom inspired him to do many things in life, especially becoming a teacher because she has been working for the Santa Ana unified school district for about 30 years. He said he wishes to inspire students as his mom inspired him to follow his dreams. He is a great role model to any and every student. Something interesting and cool about Mr. Chavez is that he's actually working in the community where he grew up. He told me that it's so great being back and reminiscing about his childhood and to see that not much has changed in his community.
Mr. Chavez has a way with students that is special. I'm glad he decided to become a teacher because he's meant for it. I know he's a teacher who has been making a big difference and a huge impact on his students' lives. Thank You Mr. Chavez for being a great teacher and we appreciate all your hard work.
Leave a Comment