During the holidays Mexico is big on food and parties. They have many dishes from pork to chicken, from sweet to salty. One of the many dishes I have experienced is a very popular dessert called "Ensalada de Manzana" which in English translates to "apple salad". I know an apple salad sounds weird, how can it be sweet right? Well, this dish isn't made with any greens.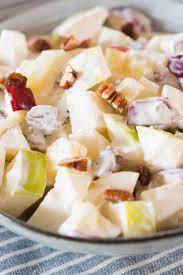 The apple salad is traditionally made with apples, peaches, green grapes, raisins, pear chunks, nuts, sweetened milk, and sour cream. But the way that most people I know have said it tastes better without pear chunks and green grapes or raisins.
Although this dish is traditionally made during the holiday season many Mexican families make this dish to take to parties. My family is guilty of being one of them. But this dish my mom makes for me whenever I'm feeling down so it is extra special to me.
The "Ensalada de Manzana" is made with honey crisp apples, a can of whole peaches, Nestle La Lechera which is the salads' main source of sweetness, and Mexican cream with no salt. It is important to the dish that you use Nestle La Lechera as your sweetener because it is what makes it taste the way it does as well as the Mexican cream with no salt. These ingredients are better if you get them from your local Northgate.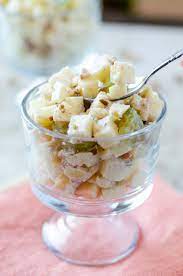 The recipe: Apple Salad (serves 8-12)
8 apples, peeled, cut into chunks 
1 15.25oz can of peach chunks 
4 cups of cream 
1 6oz can of sweetened milk (Nestle La Lechera)
Mix all ingredients in a large bowl 
Chill in the refrigerator for 10-15 minutes 
Then serve away into small bowls or cups!