Cheer squad takes 3rd in nation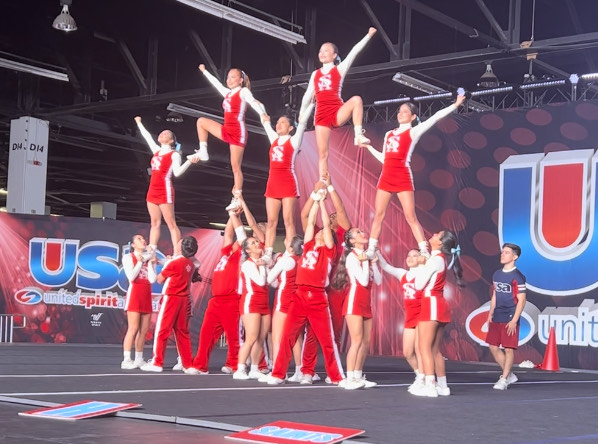 When the Santa Ana High cheer team made its way to the Anaheim Convention Center for Nationals on Saturday, February 25,  coach Brian Jones gave the seniors time to talk and give some final words to their teammates. 
"Seniors, I will light this "candle" and you will pass it around as you receive your final red bead," he said. 
The team passed the candle around, but what caught everyone off guard was Peleitala FA'Aloua (a varsity senior cheerleader and football player) giving his words. "I know I joined you guys after football season but I'm grateful to be a part of this team. Thank you guys." 
The encouragement worked, as the Saints went on to capture third in the nation in their division after the afternoon's performance.
When they arrived in the rain, everyone was anxious to preform. Villa Park take the floor in Hall D, the same hall where SAHS would preform soon after. The team stretched and warmed to prepare. 
When the team made it to warm-ups they knew they were ready. Every elite was hitting as well as pyramid. Earlier that week, Tuesday, they had let go of their fears with a balloon. They held hands in a circle and repeated the same words they had been saying since the beginning of the season. 
The team was led behind the banisters that said USA Nationals, the wait was long and full of anxiety, coach Averi Chadwick waited in line up until they entered a tent, two teams before them. "Whatever happens, happens. I am so proud of each and every one of you. You guys had such an amazing season, seniors take it in. This is your final high school cheerleading competition. I love you guys."
Captains were left with the team and Justin Jacobo said, "This team is so strong and I'm so proud of how far everyone has come. We will have a good performance. Remember whatever happens happens."
The team took the floor and had one fall but recovered. Elites hit and so did pyramid. 
Everyone left the floor, feeling overwhelmed. The majority of the team are seniors so it hit harder since it was their last high school cheer competition. 
"In the Division 3 Varsity Novice Coed, third place goes to Santa Ana High School," the team heard together. Everyone was content with winning third. "I know it's not the place you wanted, but you guys placed top three in the nation," Jones said.  
Follow us on IG @sahsgenerator
Leave a Comment